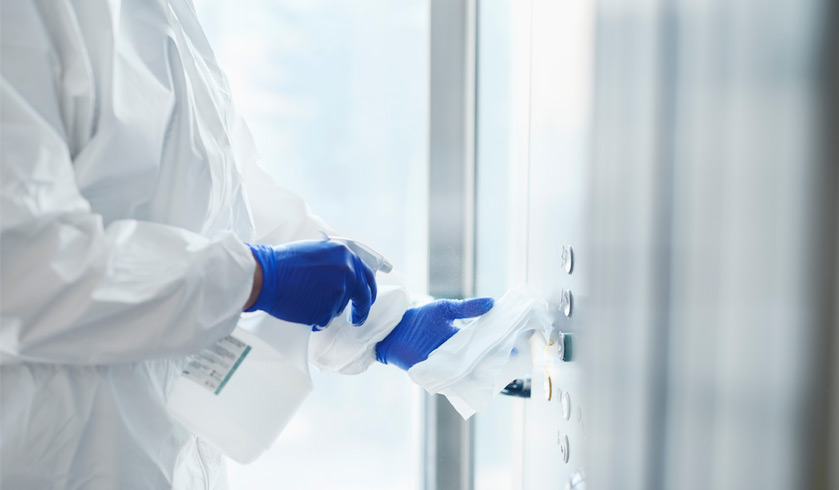 At 1840 Serviced Apartments, since we own and manage our apartments we take pride on having a great sense of responsibility to our guests, workers and partners to guarantee the best service. 
Due to COVID-19 situation we´ve specifically strengthen our cleaning procedures, check-in/check-out methods, verified our partners procedures and implemented the following protocols: 
Cleaning procedures 

Daily cleaning and disinfection of the common areas of  all buildings.

Hand sanitizer liquid available in all apartme

nts and in

the common areas. 

Use of Ozone machine in the apartments after check-out and in common areas in  order to  clean and disinfect from bacterias and virus. 

Our laundry cleaners suppliers are verified by the Gremi de Tintorers I Bugaders de Barcelona, processing both bed linens and towels for laundry at 60º, dryers at 40º and dry cleaning at 140º. Originally they use a 5 product disinfection system, but as of April they've also added a sixth product for additional disinfection call OXA-LITEX HIGIENE.

Lastly, our rooftop swimming pool is taken care of daily, following protocol of ASOFAP, following the recommended water disinfection parameters, with a residual concentration of free chlorine of 0.5 mg / l (0.5 ppm) and a correct pH correction between 7.2 and 7.6, it is sanitary safe because it is virus free.
Checking in and out

We provide a new self check-in procedure, the guest will received the instructions prior check-in date and also a 24/7 emergency phone number in case of needing further assistance. 

If guest chooses to have a Meet & Greet check-in, we also offer this possibility. 

For check out, guests will be required to leave the key inside the apartment and close the door behind them. Once the guest has left the apartment, our staff will access to carry out the corresponding disinfection.
Cancellation Policy
Reservations canceled up to 30 days before the start of the stay will receive a full refund

Reservations canceled up to 14 days before the start of the stay will receive a 50% refund. Otherwise you will not receive a refund

 In case of force majeure according to the criteria of the establishment, which will be analyzed case by case, a voucher may be offered for 50% of the stay they have not enjoyed. 
We are at your service, don't hesitate to contact us for further information at info@1840apartments.com 
Our home is your home.